A Complete Drywall Repair Solution… With all the Finishing Touches!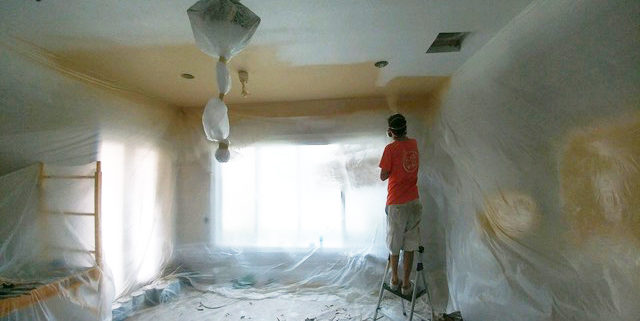 Hole in the Wall Drywall Repair is a one-stop shop for fixing all your wall and ceiling issues
When it comes to drywall repairs, as a homeowner, your main concern is whether the damage will be fixed to look as if it never ever happened. Hole in the Wall Drywall Repair knows this and our techs work very hard to ensure our customers' satisfaction. But perhaps what makes our work so special are the finishing touches we add to ensure that you are happy and will continue referring us to your friends, coworkers, family, and even strangers to Hole in the Wall Drywall Repair.
When we first arrive at a property, our Techs assess the situation, paying careful attention to not just the damage, but also to the surrounding area. Sometimes the damage is more than expected. We will always communicate and point to you anything that we see as a potential problem or additional damage before we complete the repair—whether it is due to water seeping through or other cosmetic challenges.
Our complete Hole in the Wall Drywall Repair process encompasses all the elements that ensure your drywall damage is taken care of and you are left with a smile on your face, including:
The tech starts by identifying the need to remove any molding, baseboards or fixtures around the damage
We then prepare the work area to reduce cleanup and any mess produced by the repair
Our techs use specialized equipment, which may include a HEPA filter air scrubber and other tools, to reduce any residue or dust (if applicable)
We quickly begin the drywall repair process using our proven methods and techniques
By applying texture matching, we ensure consistency in the wall and ceiling texture after the repair
If included in the estimate, we may apply the finishing touch with a fresh coat of paint
All molding, baseboards or fixtures are re-installed to restore the area to its original look
No matter how big or small the job is, Hole in the Wall Drywall Repair offers a complete drywall repair solution. Our company-trained Techs are ready to take on any challenge and know that a satisfied customer ensures that our company will keep on growing and they will be ready to take on the next challenge. Not to mention, our One Year Warranty on all repair work, so you can have peace of mind every step of the way.
Stop walking past the eye sores in your home or office and give Hole in the Wall Drywall Repair a call or request an estimate online. Put our knowledge, experience and reputation to work for you and stop procrastinating. We are ready… Are you?