Avoid the DIY Curse: Don't Do It Yourself
We live in a time when everyone likes to take matters into their own hands, but the reality is that repairing drywall by yourself may turn out to be a costlier option
It's inevitable… damage will happen to your home over time due to wear and tear, storms and other damaging forces. Whether you dinged the walls while moving furniture, a door knob created a hole, someone was roughhousing, or you just got angry and punched the wall, you may be tempted to fix the damage in your home yourself to save some money.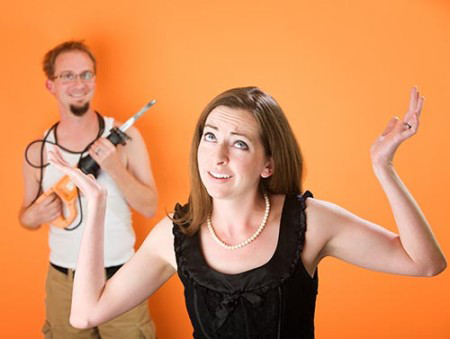 While it may seem like you have nothing to lose, the reality is quite the opposite. Depending on where you get your information, you could potentially end up turning what was a simple repair into something much larger. We frequently get calls from homeowners who have attempted a repair and have been unsuccessful. After spending their hard-earned money in DIY supplies, now they have to add tour drywall repair fees, making it more inconvenient for their pocketbook.
Texture can be difficult to match and it is often very visible that a patch has been done. Most people will use spray can texture which can be very unpredictable and will leave a visible division between the original and the new drywall. Matching the texture is as much of an art as it is a science and our technicians are skilled in texture matching, making your repair seamless for an affordable price.
When talking to real estate professionals, holes and tears in the wall often generate many more questions about the value of a home, often prompting the offers to be lower than expected. In fact, many potential homebuyers will wonder about what else may be wrong with a home. And when you try to fix it yourself unsuccessfully, it does not do much more to improve that first impression as buyers will also wonder if there is other DIY patchwork in the plumbing or electrical wiring.
Want to just get it done and not have to worry about the DIY curse? Send us a photo of your damage before you try to to do it on your own and we will provide a quick estimate or point you in the right direction before you try it yourself. And remember: cheap, fast and good are never mentioned in the same sentence…
Contact Hole in the Wall Drywall Repair today for a fast quote and let us fix all your drywall holes, cracks or damage.