Knock Down your Old Ceiling with Professional Popcorn Ceiling Removal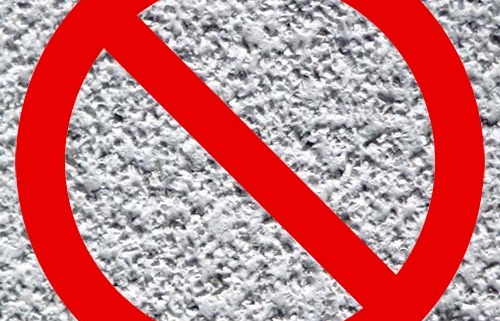 Without question, popcorn ceiling removal is one of the most popular services when homeowners plan to remodel their home and modernize its interior
There's a reason you never see popcorn ceilings in new construction these days… One school of thought is that home décor trends have evolved over the years and popcorn ceiling removal is no longer a trendy aesthetic feature. However, we also know it's because it was just a bad idea in the first place.
Popcorn ceilings–which frankly looks more like cottage cheese than real popcorn– probably seemed like a good idea at the time. But times have changed and so have consumer preferences.
Starting in the 1930s, many builders started using popcorn ceilings because it was easier and cheaper to apply, allowing the rough texture to hide imperfections in the ceiling. It also was thought to muffle sounds, which is why they are sometimes known as "acoustic ceilings."
By the 1990s, popcorn ceilings started to fall out of favor in new home construction and even on remodeling jobs. Today, most people who live in a home with popcorn ceilings would prefer to have them removed for a wide range of reasons, including:
It's an outdated look. Because builders stopped using it around 25 years ago, people associate popcorn ceilings with older homes that haven't been kept up to date. When asked if popcorn ceiling removal is a good move before selling a home, most Realtors would advise a home owner to spend the money to ensure a home looks modern and relevant.
They're almost impossible to clean. All those crevices and surfaces trap dust and other airborne pollutants, like cigarette smoke, making it really hard to clean without causing damage. And if you're trying to paint over popcorn ceilings, be ready to apply 3-5 coats because it is so difficult to fill-in its surface with paint.
They become discolored easily. In most cases, popcorn ceilings were never painted after they were applied, so any moisture that touches the surface will likely cause a stain. Just walk into a house built in the 80s and you'll see that dull look create so much contrast with your walls—and wait, it also catches more dust near air conditioning vents, making your home look dirty.
The texture damages easily. If you've ever had to clean a cobweb from a popcorn ceiling, you probably noticed some of the "popcorn" falling to the floor. It doesn't take much contact to knock those little pieces off. Worst, sometimes when popcorn ceiling comes off, you may see a patch of it falling down and creating an even uglier eye sore in your ceiling.
At Hole in the Wall Drywall Repair, we have a proven technique for removing popcorn ceiling that can be done in one of two ways.
One way is to simply remove the texture from the ceiling by scraping it down to the drywall. It is a time-consuming process and produces a lot of dust when done by inexperienced people—but Hole in the Wall Drywall Repair uses our proprietary dust-less system to contain the area and greatly reduce the dust generated by removing a popcorn ceiling. Finally, we prep and paint the ceiling with either a flat or orange-peel texture, which is as timeless as you can have in terms of ceiling textures.
The second way is to remove the drywall panels completely, taking the popcorn texture with it, and a Hole in the Wall Drywall Repair tech can install a new ceiling drywall panel. This may be a preferred option, if the existing ceiling has a lot of damage—particularly due to water intrusion damage. This is a common issue in the Southeastern U.S. after storm season or following a hurricane. Water intrusion can often can be spotted as a yellowish stain and in the worst cases, you may see a "bubble" protruding from the ceiling, as the water accumulates and its weight causes it to bulge.
While it's not impossible to do on your own, the fact is removing popcorn ceiling is probably not a do-it-yourself kind of project and should be left to a professional if you want for this process to be painless and to ensure it is done properly. Always keep in mind that when you take on a project yourself, you may still have to call Hole in the Wall Drywall Repair to come and undo your handy work and you would have done all that work for nothing. We do it right the first time and we clean up after the work is done so you can start enjoying your home again.
Word of caution is that if popcorn ceiling removal isn't done correctly, you could end up with a ceiling that looks uneven or still showing the damage on the drywall. Case in point, if you are planning on selling a home, this can create a sense of worry on potential home buyers—so why create concerns when they are looking to buy a home for their family?
And we repeat, removing the popcorn ceiling's texture creates a LOT of dust, both from the popcorn material and the junk that has accumulated on it over the years. Our techs have the experience and equipment at Hole in the Wall Drywall to contain all that dust so that it doesn't end up in places it shouldn't, like your lungs or your furniture.
If you've simply had enough of that dated popcorn-ceiling look and you're ready for an update on your ceilings, call at Hole in the Wall Drywall Repair at 844.NO.HOLES. Our staff is ready to speak with you and we'll be happy to schedule a free evaluation and estimate—it's that easy!